Twitter

Instagram

Facebook | QLD | NSW | VIC | TAS | SA | WA | NT | NZ
---
Scattered showers and isolated thunderstorms Southeast QLD and NSW Northern Rivers
27-29 September 2019
The weather radar is starting to come to life much similar to yesterday with isolated thunderstorms initiating around the far northern portion of the Northern Rivers of NSW, eastern parts of the Darling Downs and Granite Belt and inland parts of the Southeast Coast district of QLD.
The majority of thunderstorms are expected to remain below severe criteria however a few may edge into the severe zone producing localised strong to damaging wind gusts and moderate to heavy rainfall during the afternoon. This is however still heavily dependent on a few factors including moisture depth, surface heating, etc.
Yesterday, rainfall of between 1mm-5mm was recorded for parts of the Darling Downs with between 10mm-20mm received for inland parts of the Scenic Rim. Today is much similar in regard to rainfall, mostly due to limited moisture with only locally heavy rainfall possible for a number of lucky locations up to approx. 15mm-20mm. We are sure any rainfall would certainly be welcome.
Looking ahead Into tomorrow, isolated shower and thunderstorm activity is expected to edge further north to parts of the Wide Bay and Burnett district as the upper trough moves offshore. Drier air and windy conditions tomorrow are expected to elevated fire danger to severe levels especially for parts of the Darling Downs and Granite Belt.
Image 1, Current EWN Radar w/lightning overlay (12.45pm)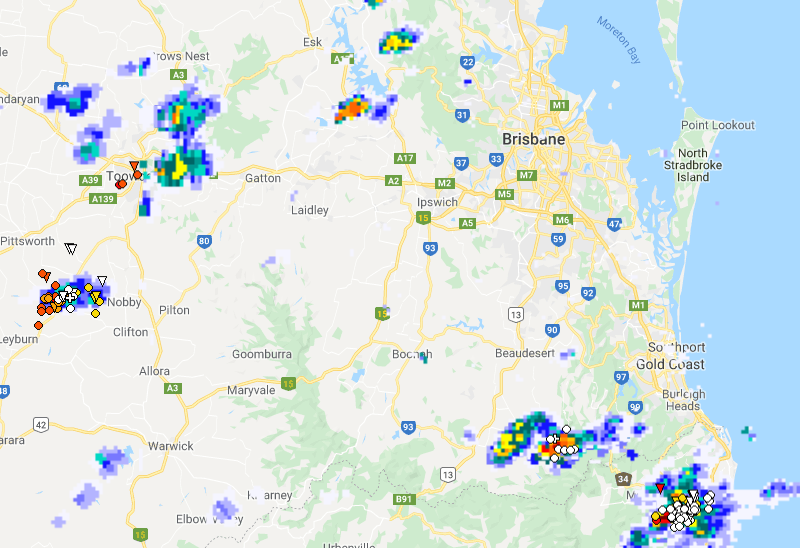 ---