Twitter

Instagram

Facebook | QLD | NSW | VIC | TAS | SA | WA | NT | NZ
---
Severe thunderstorms develop across central Australia with more on the way
Friday 18th September 2020
An unusual, yet volatile September thunderstorm set-up is unfolding across inland Australia this afternoon, with severe thunderstorms exploding across parts of South Australia and Queensland this afternoon.
The Bureau of Meteorology issued severe thunderstorm warnings just after lunch Friday afternoon, with damaging winds, large hail and heavy rainfall that may lead to flash flooding possible across the interior of the country.
Image 1: Current satellite, radar and lightning overlay.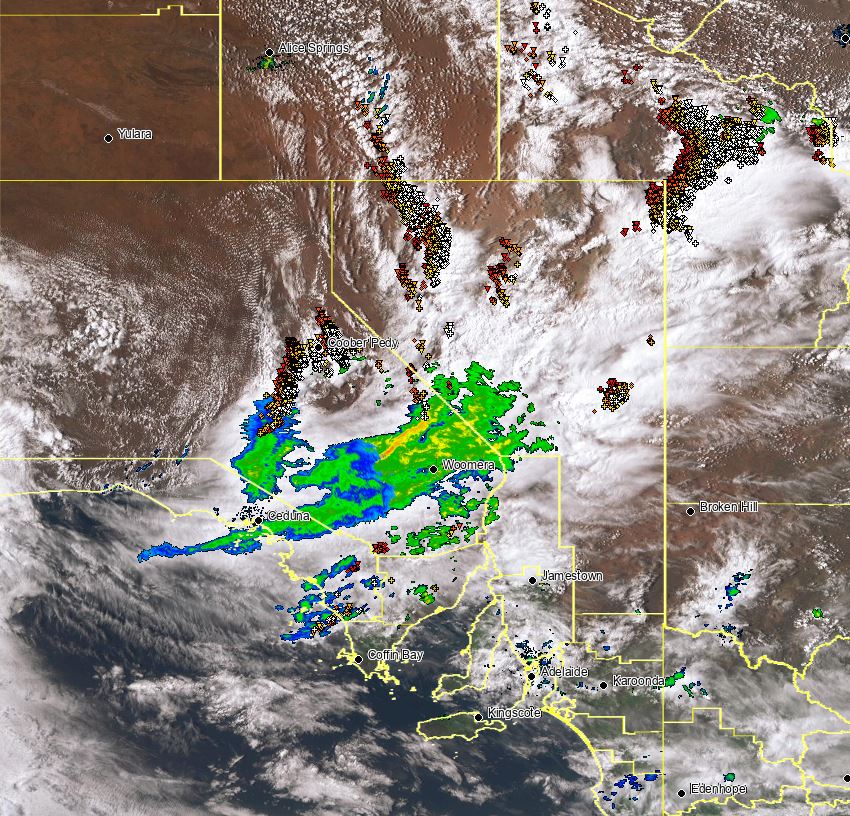 Image 2: Bureau of Meteorology severe thunderstorm warnings. Issued 18/09/2020. Image via BoM.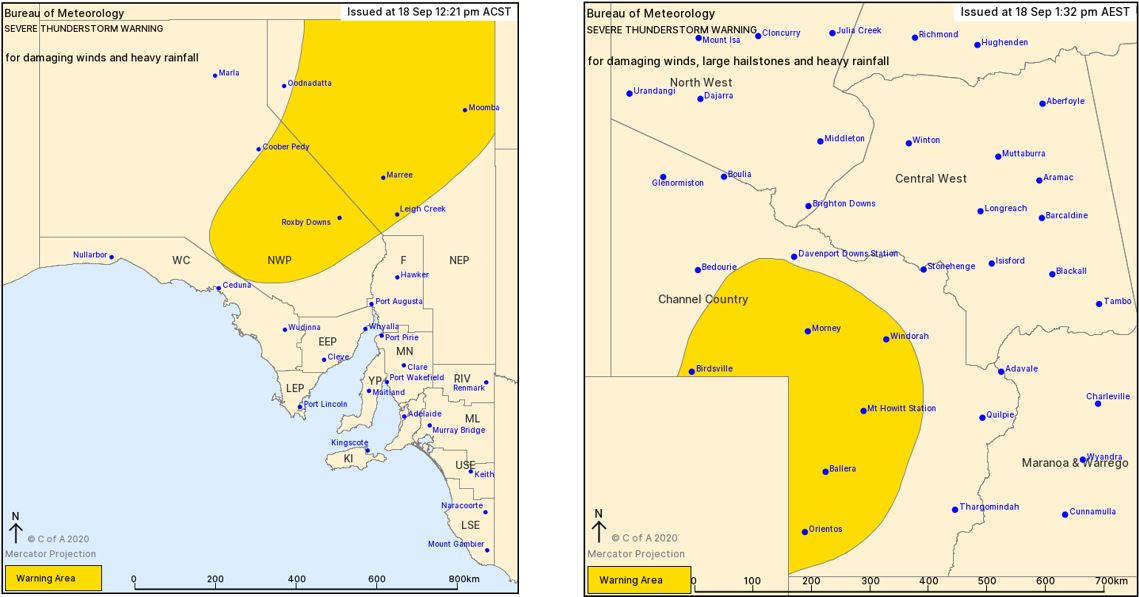 This storm activity is expected to continue overnight Friday into Saturday morning, before another round of severe storms develop across western Queensland. Saturday afternoon's storms are expected to be rather intense, with the potential for supercell thunderstorms to develop which will be capable of producing damaging to locally destructive winds, large to giant hail and further heavy falls. There is even the outside chance of an isolated tornado or two developing should any supercells remain discrete.
Image 3: Bureau of Meteorology day 2 thunderstorm map, QLD. Valid Saturday 19/09/2020.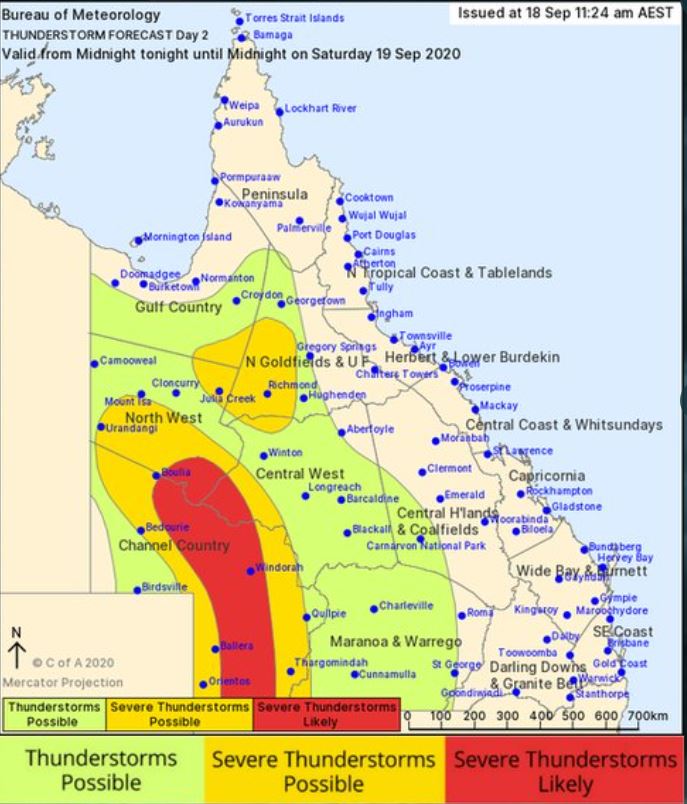 Further south, widespread shower and storm activity will develop for eastern parts of South Australia, western NSW and Victoria during Saturday afternoon and evening. A few of these storms are expected to become severe with damaging winds, large hail and heavy rainfall leading to flash flooding.
Image 4: Bureau of Meteorology day 2 thunderstorm map for NSW & VIC. Valid Saturday 19/09/2020.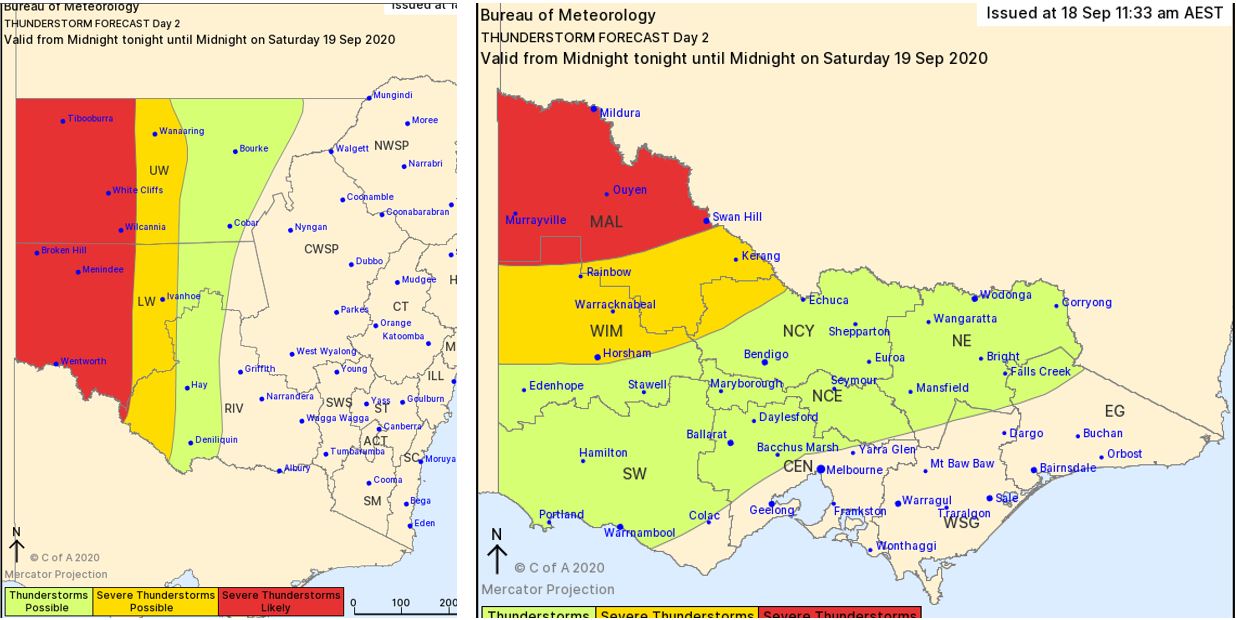 The slow-moving cold front and pre-frontal trough across central Australia will shift east into Monday, interacting with increasing moisture to generate moderate to strong instability across NSW and southern QLD. Strong wind shear associated with an upper trough will be present across the region helping to aid in the development of severe storms.
During Monday afternoon, a large line of thunderstorms is expected to develop along the cold front, with the potential for a few discrete storms to develop ahead of this line. Severe thunderstorms will be possible, with damaging winds and the potential for large hail to develop.
Image 5: EC rain and thunderstorms for Monday afternoon 21/09/2020. Image via Windy.com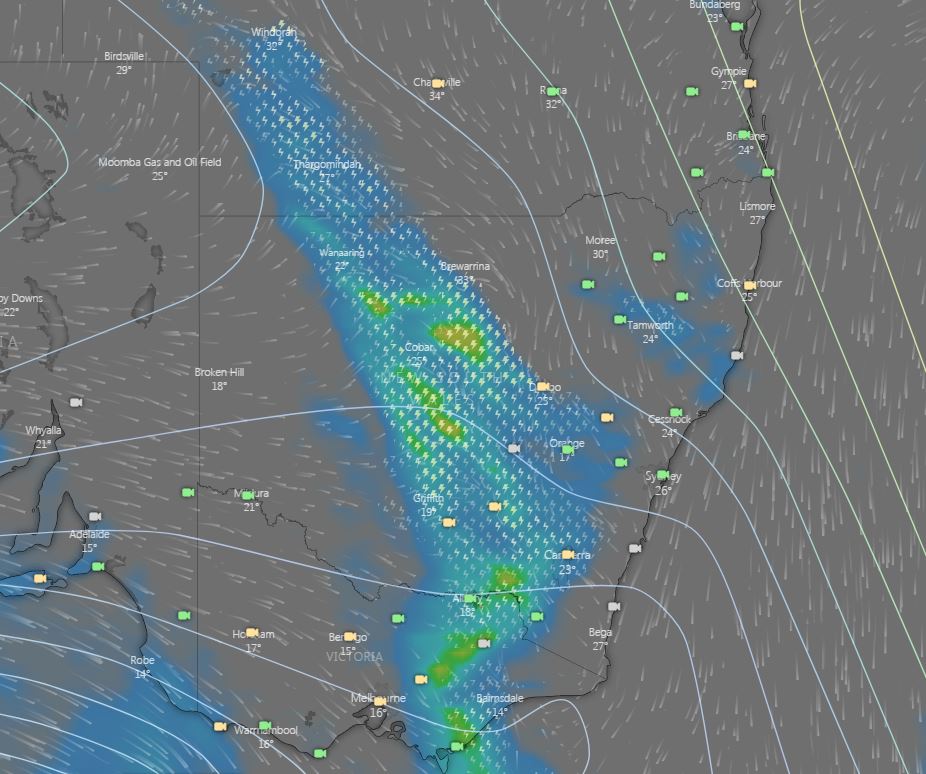 Further storm activity will continue overnight Monday and into Tuesday morning whilst shifting northeast ? however severe storm activity is considered minimal across northeastern NSW and southern QLD at this time.
---