Twitter

Instagram

Facebook | QLD | NSW | VIC | TAS | SA | WA | NT


Gulf Tropical Cyclone Threat
21 March, 2018
Before reading any further, the golden rule about the Gulf of Carpentaria is that it's notoriously unpredictable when it comes to trying to forecast where a tropical cyclone might head, and how weak or strong it'll be. This means forecasts can sometimes change dramatically at the drop of a hat. So all the information below is HIGHLY subject to change.
At time of writing this, the scenario that's currently more likely than the others is for a tropical low to drift SE past the northeastern tip of the NT (Arnhem Land coast) while gradually intensifying. Then by around Friday (but allow a leeway of a day either side of this), it's likely to become a tropical cyclone. If it does become a cyclone, its name will be Nora. By the weekend, the system should enter the waters in the Gulf, intensifying further and possibly into a significantly intense tropical cyclone. From late weekend onwards is when the uncertainty about what happens to it well and truly kicks in. It's quite possible that it hovers erratically for a bit in the Gulf before curving south or southwest & coming ashore along the Gulf coast.
BUT one thing to always remember about the Gulf is that if a tropical system shifts too close to land, it can interfere with the system's ability to strengthen into a major tropical cyclone. It doesn't always happen but it does happen sometimes.
Here's a map showing a range of possible scenarios for this tropical system's tracks within the next 6 days from a range of computer models. Note that it doesn't show what may happen beyond those 6 days and it also doesn't mean the system will be a tropical cyclone along the entire length of those tracks. You can see that there's an overall trend of the system curving to the south into the Gulf in the next few days.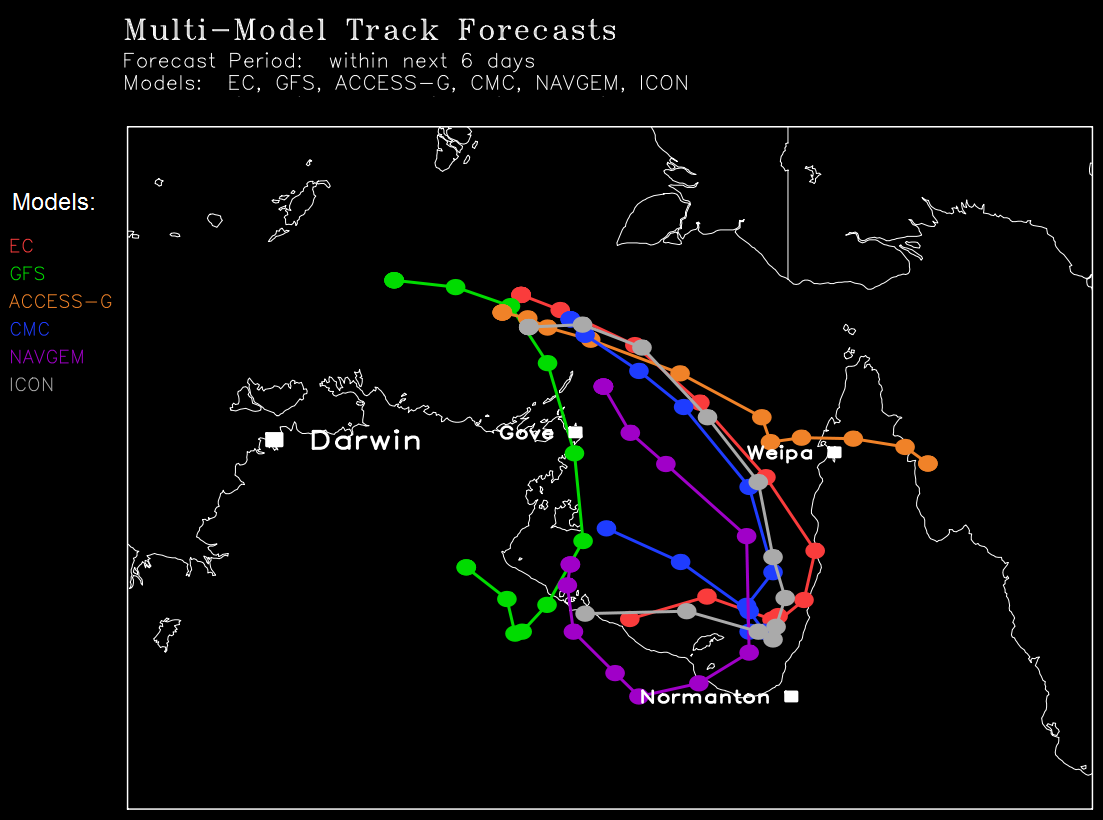 ---
Severe Winds Tasmania
19 March, 2018
Check out the huge intense low pressure system over the Southern Ocean in this forecast wind map for this afternoon generated by the ECMWF model.
This low has a central pressure of 945hpa and very strong winds wrapping around it with embedded cold fronts have caused impressive wind gust speeds for many exposed locations in SE Australia this weekend. These strong winds are still continuing in some areas and just some of the highest gusts so far since midnight include:
Maatsuyker Island (TAS) - 156km/hr
Mt Wellington (TAS) - 137km/hr
Scotts Peak (TAS) - 133km/hr
Low Rocky Point - 117km/hr
Map credit: windy.com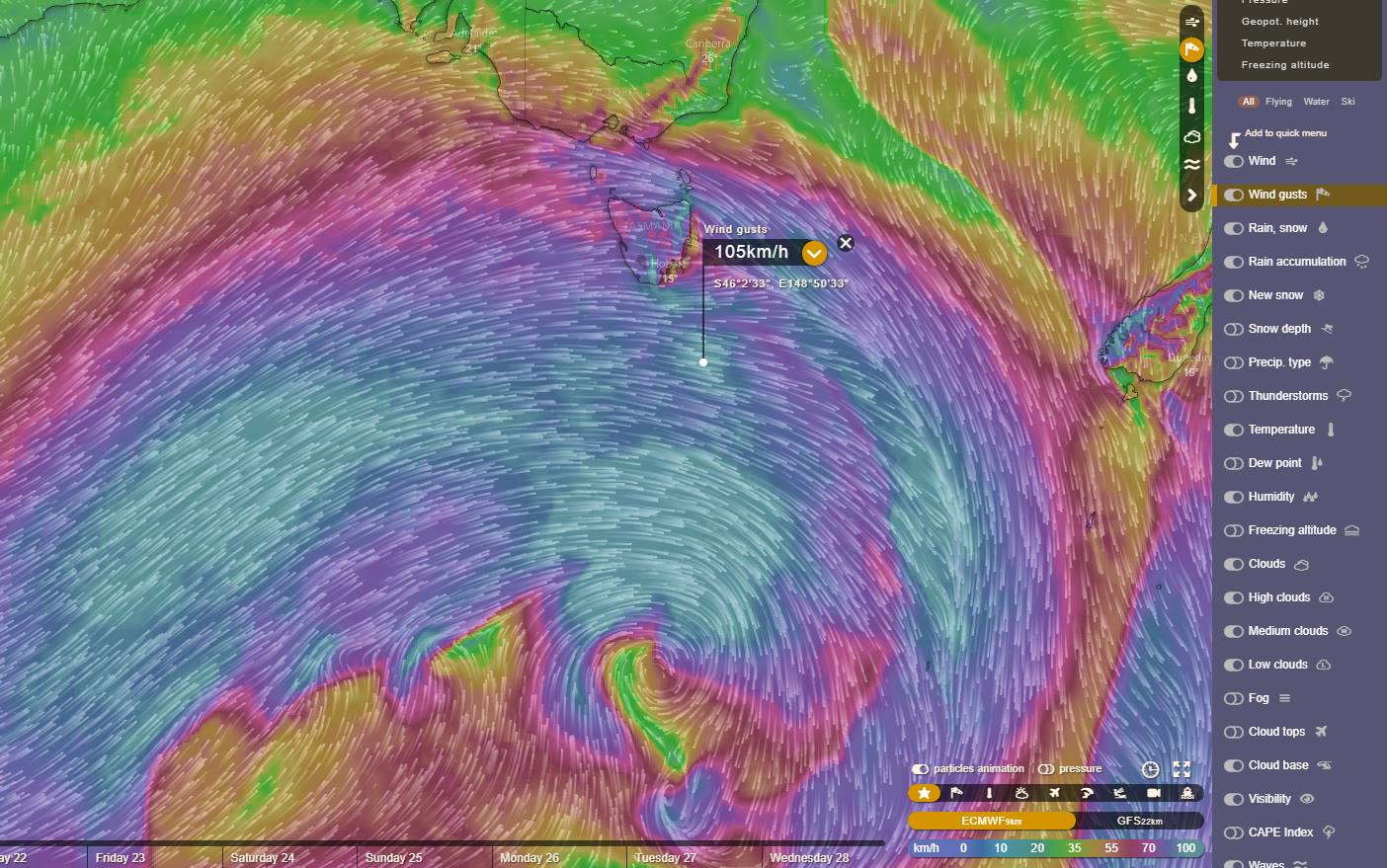 ---
Tropical Cyclone Marcus - Northern Territory
5pm 16 March, 2018
Tropical Cyclone Marcus was named just after 11:00am this morning and is currently located approximately 50kms NNW of Croker Island and continuing to move in a SSW direction at 11km/h. On current projections, it is possible for the Tropical Cyclone to reach Category 2 strength late this evening or early into tomorrow at this stage.
The current Category 1 Tropical Cyclone currently has quite a few factors working in it's favour with good equatorial outflow in a moderate vertical wind shear environment and is also tracking over very warm sea-surface temperatures of between 29-30 degrees. TC Marcus is expected to continue to track towards the SW (under the influence of the sub-tropical ridge to the SE) overnight and potentially cross close to Darwin, NT during tomorrow.
As TC Marcus encounters the land mass, the tropical cyclone may weaken slightly back to a Category 1 system due to the lack of heat source and moisture provided by the ocean, before potentially reintensifying back to Category 2 strength as the TC tracks back over the waters of the Timor Sea late tomorrow and during Sunday. (On-route towards the North Kimberley Coast of Western Australia).
A Category 2 Tropical Cyclone is capable of producing ten minute sustained winds speeds of between 89km/h-117km/h and gusting up to 166km/h. Currently the Warning zone exists from Maningrida to the Daly River Mouth and includes both Darwin and the Tiwi Islands, with the current 'Watch' zone in place between the Daly River Mouth to the Mitchell Plateau. Destructive winds with gusts >130km/h are expected to develop this evening between Cape Don and Croker Island this evening. A storm tide between Milikapiti and Maningrida, including the Van Dieman Gulf is expected with the crossing of the tropical cyclone.
Click the image for an animation of Tropical Cyclone Marcus.
---
Sizzling Temperatures & Potential Record March Heat This Weekend in NSW
4pm 16 March, 2018
A strong cold front will drag a very hot airmass across NSW this weekend, with temperatures more typical of summer.
Maximum temperatures will reach into the mid-to-high 30s, with some areas reaching into the 40s. For some areas, this heat may be close to record breaking, or at least record breaking for this late in March. On Sunday, Bankstown is predicted to reach 41c (record 41.6c) and Sydney 38c (record 39.6c).
Strong winds ahead of and with the change also makes fire danger likely to be significantly elevated, so remember to be prepared.
Image shows forecast temperatures on Sunday across NSW.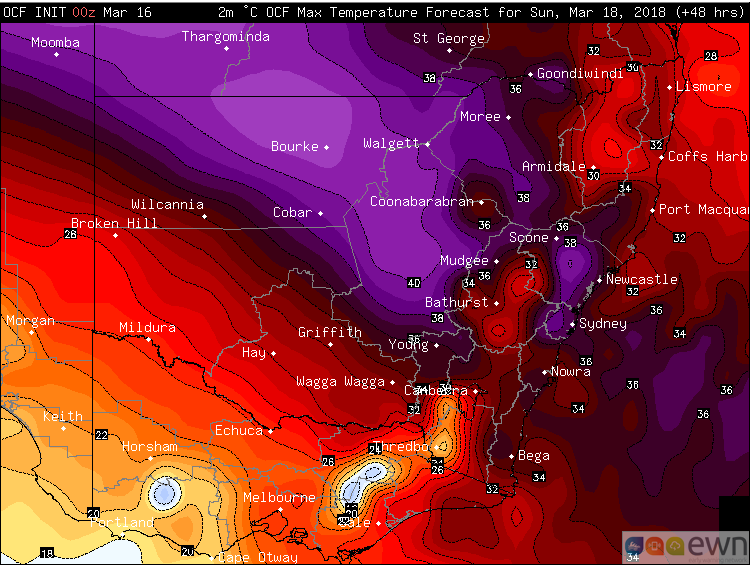 ---
Tropical Low/Cyclone Potential - Southeast QLD
13 March, 2018
With lots of hype about a potential tropical cyclone in Southeast QLD in the next few days it's worth having a look at what the ensemble models are saying for its track. (The image below from ECMWF model).
As we can see, the vast majority of scenarios have the system passing out to sea. This would generate some increased swell, and possibly a few showers and gusty winds along the coast, however impacts would generally be minimal. However, in the event that the system moves faster than expected and arrives before the stronger wind shear is predicted to push in (considered VERY slim right now), there is a chance of southeast QLD being impacted, but this also does not necessarily mean it would even be cyclone strength.
At this stage, the system has a moderate chance of becoming a cyclone in the next 24 hours, and the most likely scenario is for it to pass out to sea and not cause too much fuss over land.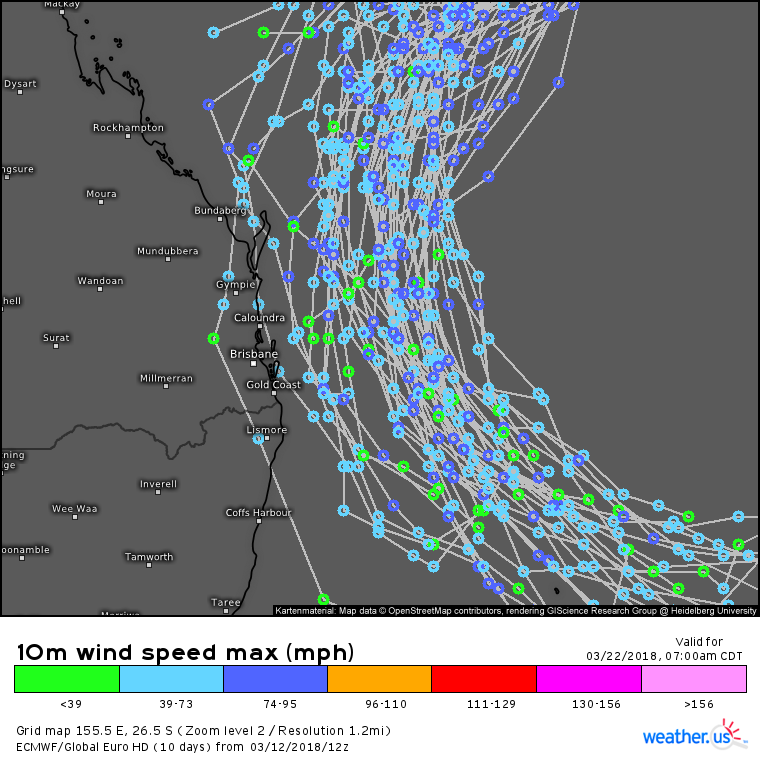 ---
Heavy rain drenches parts of Sydney overnight
13 March, 2018
Some isolated but very heavy rain around the Sydney basin last night, mainly over the North Shore, Northern Beaches and eastern suburbs
The city collected 53mm to 9am, however Mona Vale recorded 113mm. Unfortunately the rain didn't get far west, or even north of Sydney, however it would still be welcome for where it fell.
The image below shows rainfall totals in the 24 hours to 9am today, sourced from the Bureau of Meteorology.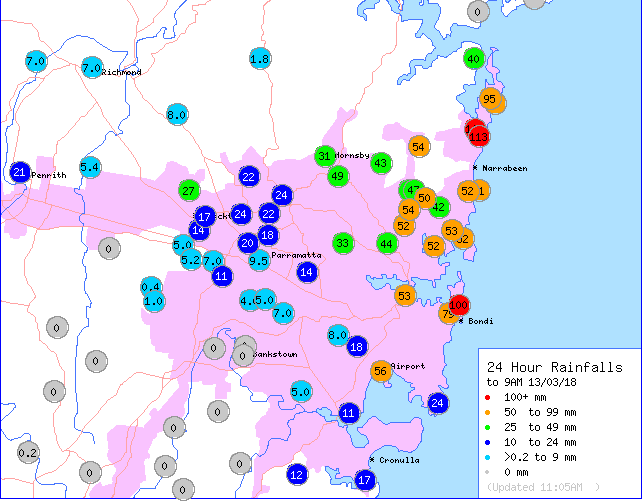 ---
Broome registers wettest year on record
20 February, 2018
Broome has officially recorded its wettest year on record, a mere 7 weeks into the year.
Record rainfall aided significantly by Cyclone Joyce and Cyclone Kelvin have meant the town has received 1497.2mm so far this year, eclipsing the previous record of 1496.6mm set back in 2000.
January (940mm) and February (557.2mm and counting) were both the wettest on record, with January also being the town's wettest month on record.
With the cyclone season persisting through to April and the remainder of the year to come, Broome has the chance to break its previous by a significant margin.